I originally expected my return to blogging to be an explanation of where I've been for the past 3 months, then a rant about plus size clothing, then a return to your regularly scheduled programming. bus life doesn't always work out the way you plan.
Yesterday, Pinterest announced the release of an Android app, an iPad app, and an update of their iPhone app. And I never would have known if I hadn't woken up this morning and logged right on to Pinterest for some unknown reason. That is not part of my morning routine at all.
So, I went to Google Play in search of the app that I've been waiting for for MONTHS, which I found about halfway down the search results (the downfall of a brand new app). I'M IN LOVE.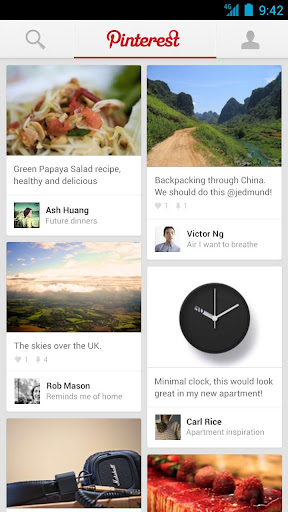 It's very similar in layout to the mobile site, with a few obvious exceptions. Instead of one pin per line, the photos are side by side, which makes for faster scrolling. The list of categories is really convenient, and not having to wait for everything to load, which is especially convenient for someone like me who is uploading a thousand photos to their blog while they download 2 gigs of programs and write a blog, eating up ALL of the bandwidth in the house (pro tip: don't get DSL if you're anything like me). There are some really convenient features like the support tab with a lot of FAQs and info on bugs, and a quick "Invite Friends" button.
But of course, the MOST important feature is not IN the app at all.Installing the Pinterest App adds a Pin It button to all of you Share menus.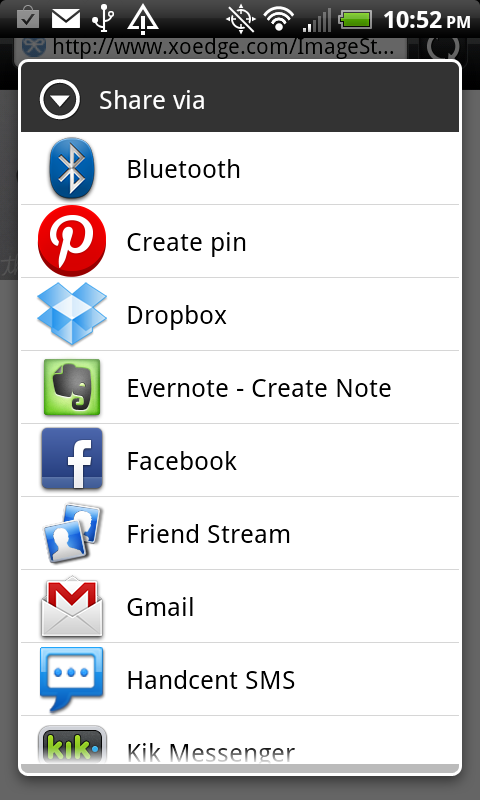 The button acts very similar to the Pin It plug in on Chrome. You hit it, and it brings up a list of the images on the site and you just click on and you can pin it to any board you want. This is the best news ever. I've already pinned something from a blog that was in my Google Reader on my phone this morning. Perfection.
The iPad app is very similar, though obviously bigger. It also has some cool features like swiping to get back to where you were, and this cute little menu for choosing a category.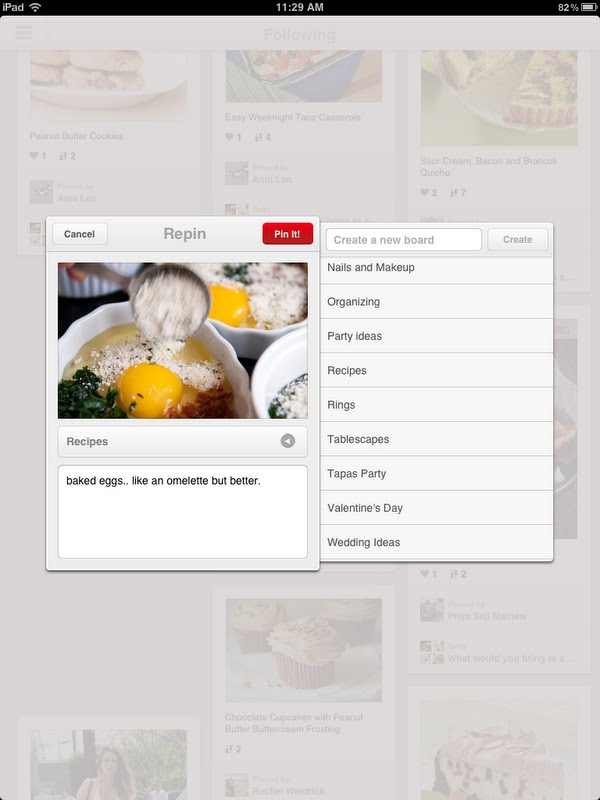 Needless to say, I'm extremely happy with this new app. I've been waiting for it forever, and it's going to make pinning so much easier. Not to mention filling up all of those little -ahem- moments when I find myself bored out of my mind. Did you download the Pinterest App yet? Are you as much of a fan of it as I am?