Whenever my uncle comes into town, he has to visit Lelli's, which used to be located downtown but recently moved just down the street from our house. Today, he came in and I was available to go for the first time. Lelli's On The Green has been his favorite restaurant for years, and I know now why.
Atmosphere – 5 out of 5
When you first walk in, there is a large crystal chandelier hanging over a sitting area with leather chairs and nail head trimmed chairs surrounded by paintings of women and photos of the owner with servers and customers. You walk to a black lectern where a woman waits to seat you. We were there at 5 on a Wednesday, so the place was virtually empty, but the lushness of the interior suggest that it would never be too loud, and the tables were a decent distance apart, so it would never look crowded or be hard to walk around when it is crowded.
We sat near the kitchen, which was a touch loud, but not nearly as bad as it could have been. And I could smell the pasta almost immediately. And it was a beautiful smell. Not to mention, they play nothing but Frank Sinatra all day every day.
Food – 4.5 out of 5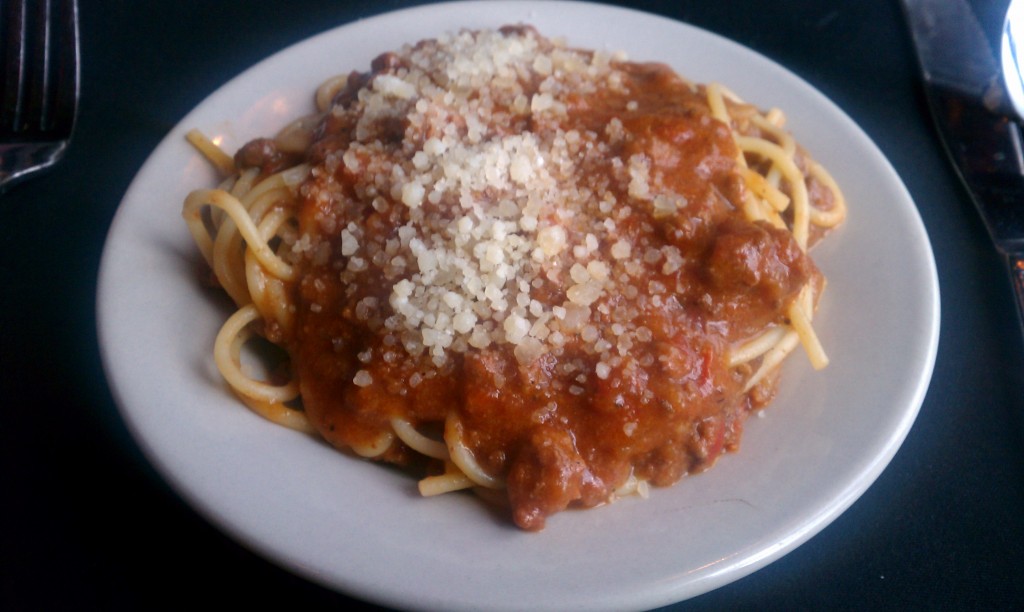 Upon being seated, we were served a basket of rolls and breadsticks. There was quite a bit of garlic in the rolls, which was disappointing, but they were still quite good. The breadsticks were wonderful. Upon ordering, we were brought a three course meal (I couldn't even imagine eating their six course) starting with salads. The salad was romaine, tossed in Italian dressing with chickpeas and a mozzarella chip on top. We each ordered a side of Spaghetti Bolognese, which came next, which was the best pasta I've ever eaten.
Finally, we received our veal parmigiana, which was a massive piece of veal over a meat sauce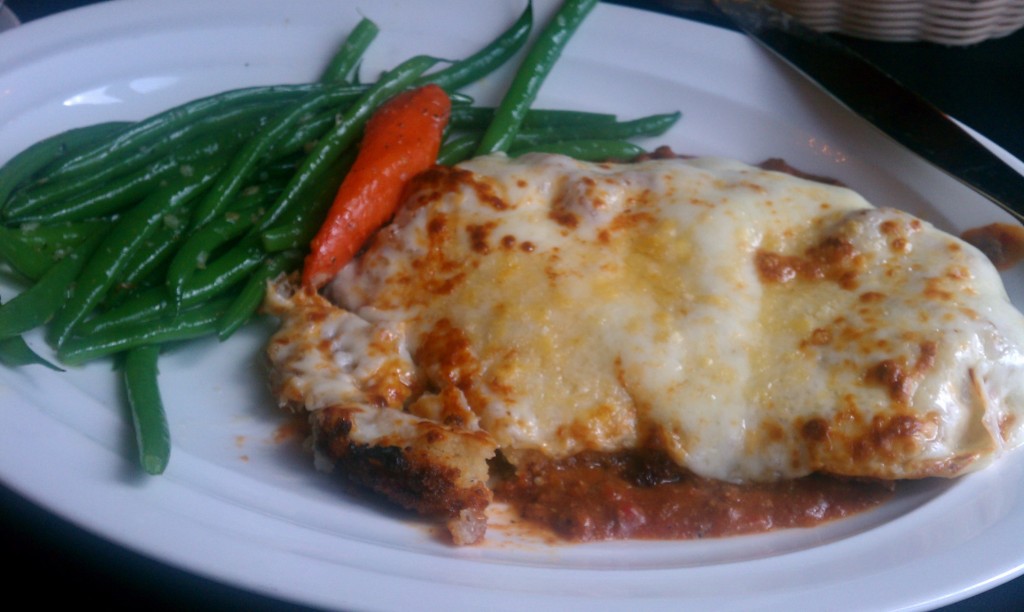 with a side of green beans and carrots. The green beans were cooked in an amazing garlic butter, and the slab of veal had a perfect crunch around the edges and a gorgeous coating of cheese. This was, without a doubt, the best veal I've ever had.
You may be wondering why I gave the food a 4.5 at the point. I probably would have given it a 5 had I not watched Goodfellas yesterday and watched Paulie slice tissue thin pieces of garlic, which made the flavor of the garlic in all of the dishes really stand out to me. They could have backed off on the garlic just a touch and everything would have been perfect.
Service – 5 out of 5
Our server lit a candle for us when we were seated, then gave us a few minutes to decide what we wanted. He was aware and observant and it was seconds between putting down our menus and giving our order. He was a wonderful server, with the regular witty banter of any good server, but he didn't overdo it – no oversharing, no obsessive chatting, no interrupting our meal – and that was MUCH appreciated. He even came over and sang us some Sinatra at one point.
Another gentleman, I believe a bus boy, was constantly refilling our waters and taking our plates after every course. He was very nice and polite as well. And quite cute.
Overall – 4.5 out of 5
If they'd cut back the garlic just a touch, I would be giving Lelli's a 5 out of 5. I'm a HUGE Frank Sinatra fan, and I'm a HUGE pasta fan, and Goodfellas is one of my favorite movies (ok, totally irrelevant) so this VERY classy restaurant is totally my speed. If you're looking for a cheap meal, this is absolutely not the place, but if you're looking for an amazing date night, Lelli's is the place to be. Especially if you're looking to get engaged. Hint hint.