I still don't understand why they cut three people last night, considering the season is then only going to be 10 episodes long, but hey, I didn't make the decision. There were a lot of buys last night, so I'm just going to jump right in and be judgey.
I was really happy with both of Saks' purchases. Nikki Poulous' striped dress was gorgeous and really fit into her style. I could have totally seen Nikki wearing this one-shoulder dress, and I love it when designers design for themselves. The $295 price tag isn't too bad, considering it's Saks.
Orly Shani's dress looks very flattering but simple. It's definitely a work-dress with a blazer, but could be a date-dress without. It's versitile and pretty impressive. This one is also priced at $295, and I'm fairly certain that Saks is realizing they're overcharging for these unknown designers, because they appear to be lowering the pricing while the other two are raising the prices.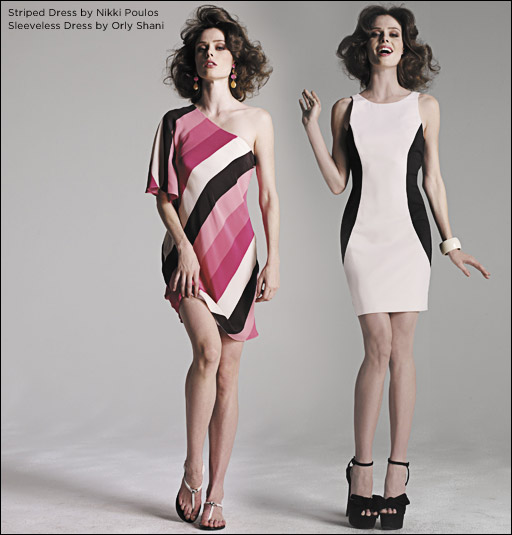 Ronnie Escalante's dress is… interesting. I really don't think it's that flattering. It looks like a top and a skirt and it's totally shapeless. I wouldn't pay $39.95 for it at all.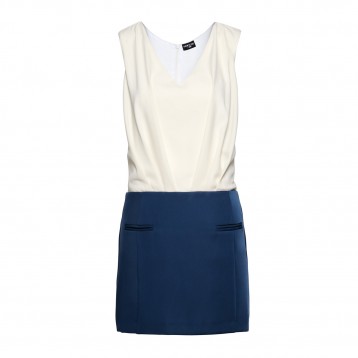 H&M seems to have loved the shapeless things last night, since they bought Kara Laricks' shapeless dress. Which is ugly. And they still have tons in stock. Considering it's $24.95, I'm completely shocked it's still there. But then it's ugly. Who knows.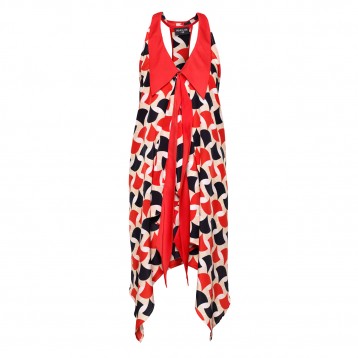 I loved Orly Shani's blazer (Chris hated it), and I think it would be gorgeous with that black and white dress of hers. I love the lace insert in the back and the way the lapel looks in the front. It's just an all around pretty blazer. And a great price at $39.95.
They also bought Orly Shani's trouser, which just looks like a plain trouser to me, but hey, what do I know? The $25.95 price tag makes zero sense to me, considering they're cheaper than the blazer, but… whatever.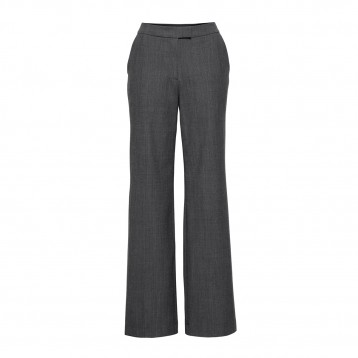 I'm kind of in love with Ronnie Escalante's suit. The lapel is awesome, the wide-leg trouser is awesome. The price is on par with the rest of what Macys sells – $208 – and it's just an all around great outfit. I'm glad they didn't pick up the floral one.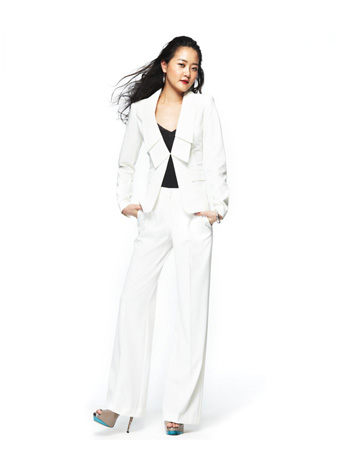 Kara's trenchcoat is one of the few items of hers that I liked. It's very structured and the lining fabric is adorable. It's a pretty good price at $99, and it's a nice, classic trenchcoat.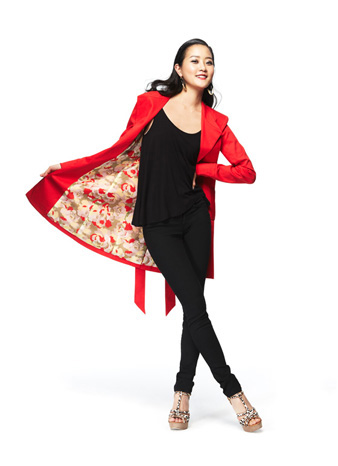 I'm pretty sure Kara Laricks is going to be the winner since it's between her, Ronnie, and Nzimiro. Ronnie is always iffy, and Nzimiro is menswear, so this is my official prediction.