Before Pinterest, it was actually fairly difficult to find ideas for centerpieces. Much of what I found before were some not-so-creative ideas that involved sticking some flowers in a vase. And sure, you could get together with your florist and have them put some flowers in some vases, but where's the fun in that?
Katie Bower over at Bower Power Blog shared these giant vases filled with lemons, limes, and hydrangeas from her friend Jack's wedding. They were scattered around on tables with square vases filled with cut lemons and limes with more hydrangeas and some lilies. I'm sure your florist would have some ideas on how to achieve this, or something like it. You could fill the vases with strawberries, blueberries, just about any fruit might work, though I would suggest taking a day to test your idea first.
These amazing centerpieces are from Sarah and Jon's wedding featured on Wedding Row California. I'm in love with the cut wood stands and the simple lidded canning jars filled with wildflowers. The odd little bottles next to some of the pieces give the whole thing a little bit of a historical feel, and the collection of pairs of birds makes me squeal with joy. SO cute! I bet you could put them all together yourself on the cheap if you tried hard enough, too. And of course, anything that incorporates table numbers into the centerpiece is great in my book.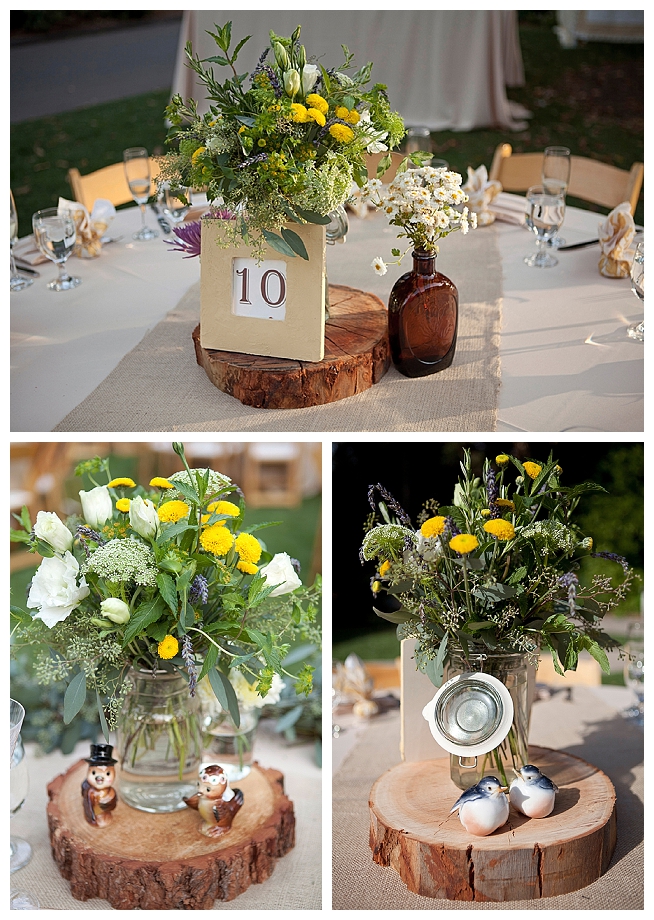 I've always been a fan of the tall vases filled with *blank* and water and candles. They had them at my brother's wedding with calla lilies. So naturally, I'm going to feature them here. I found these over at Centro Garden (including how to do it yourself!) and it might be the prettiest DIY centerpiece I've seen. It's simple, all you need is some vases, twigs, tumbled glass, wire, and floating candles. You just fix the glass to the twigs with wire and then sink them in water, top it with a floating candle, and you're all set! I already had an idea for centerpieces, but I might switch it up a bit to include these gorgeous vases.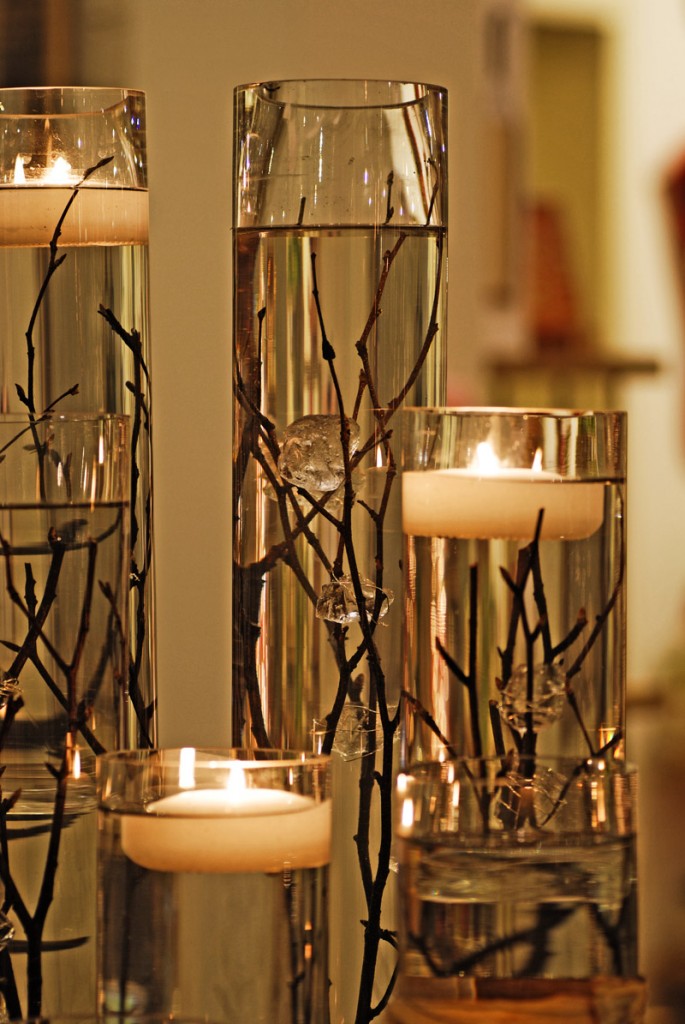 Love and Lavender feature these amazing eclectic book-based centerpieces from Ben and Aileen's wedding. Aileen collected some old books from local thrift stores, then piled them up on top of paper doilies with vintage keys and paper pinwheels and topped them off with mason jars and milk bottles filled with roses and lavender and other wildflowers. If you love books and vintage everything, aim for something simple and amazing like this. SO cute and unique!
If you head over to Green Wedding Shoes, you can take a peek at Danielle and Jeremy's barn wedding and their small, simple, rustic collection of bottles and flowers and berries with paper table numbers. I really love this one. Something about a wedding in a barn just screams old fashioned family wedding and starts getting me nostalgic.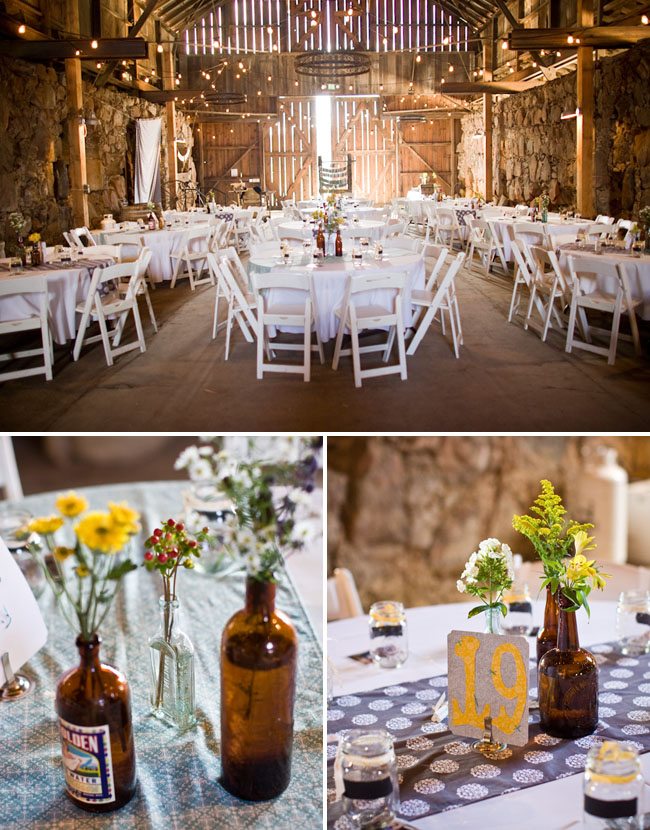 Your florist might have some ideas for you, but if you're looking for something amazing to bring to them or even something to do yourself, search Pinterest for "centerpieces". Not only will you come up with something fun, but you'll be able to adapt it to fit your wedding (or even mix a few together) and make something uniquely you.