I know I just posted a restaurant review yesterday, but I went to a new place last night and had to do two in a row. This restaurant is two doors down from the most amazing Chinese restaurant in Oakland County, Rainbow, at 9 Mile and Farmington Road, but we weren't as impressed with them as we are with Rainbow. Unfortunately, Rainbow is closed on Mondays, so we ended up at Sushi House.
Atmosphere – 4 out of 5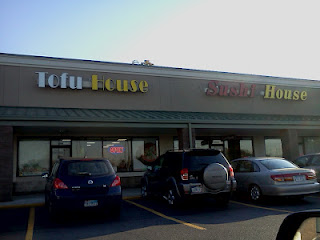 The restaurant is fair sized, and usually packed. We were there on a Monday and it was pretty full of people, though we were seated immediately. The tables aren't too close together, and the restaurant is very open-looking. You can see the sushi chefs at the open bar, and there's a pretty nice flow. It's also connected to the place next door (Tofu House) and they share a kitchen, so you can order anything from Tofu House while in Sushi House.
They play slides of sushi on screen all around the room, and the windows between Sushi House and Tofu House are made to look like fish tanks with window clings, though I think they could have saved a bit of money on the flat screens and put in real fish tanks.
Food – 4 out of 5
Our meal started with a simple salad with the best peanut salad dressing I've ever had. So much so that we bought some before we left. Then we were served Miso Soup, which was weird and separated in the time that it took us to eat our salads. That was just strange. And it didn't help that it was bland.
The Sushi and Sushi House is nothing short of amazing. We ordered the Sexy Roll and the Dragon Roll (seen below) and they were delicious. The Dragon Roll had a phenomenal crunch from the shrimp tempura. It was all good. We also ordered the Yaki Udon and Beef Nabemono in addition to the sushi, to make for a more… dinnery dinner. The Nabemono was pretty good. I'm not usually a fan of sweet dishes as meals, but this was totally different. The cellophane noodles were a bit chewy, but the meat was tender and the vegetables were perfectly cooked. I would definitely recommend the Nabemono if you go there with more than two people. Or are really really hungry.
The Udon, on the other hand, was not good at all (once we finally got it… more on that later.) It was bland. Very bland. And the noodles were very rubbery and just not good. I much prefer the Udon at Benihana.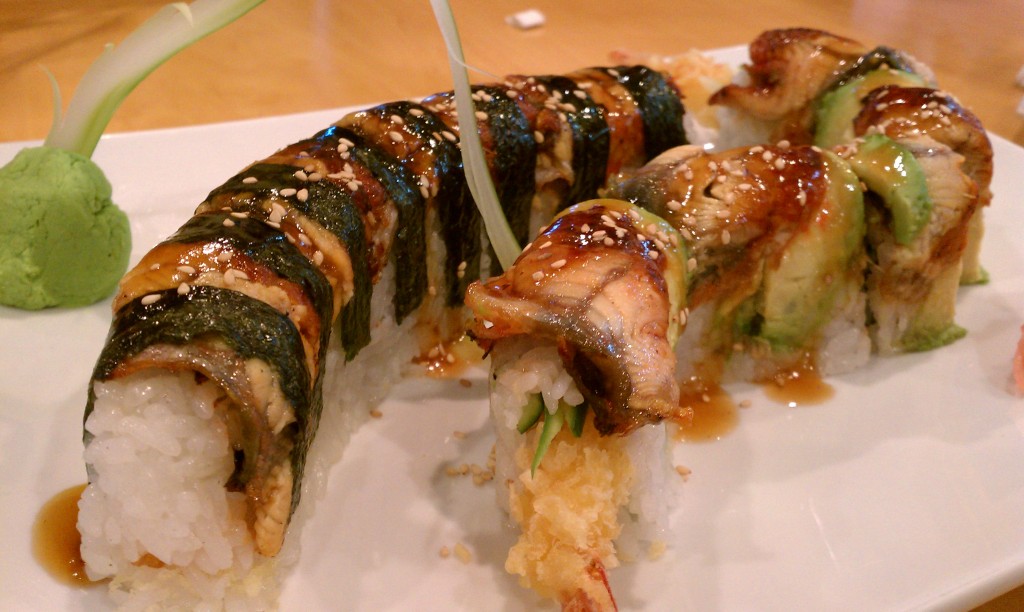 Service – 1 out of 5
I was extremely disappointed with the service. We were served our sushi first, then they tried to bring our bill without bringing the rest of our food. I figure most people only order sushi, because when we asked where the rest of our food was, the woman (not our waitress) had no idea what we were talking about. Then we waited almost 15 minutes before having to ask our original waitress when we would get our food. She quickly said "you will get the rest of your food" and ran off. We eventually got our food, and when I took a bite of the Udon, it was ice cold. As though it had sat in the back because everyone had forgotten who it belonged to.
I never would have known if they'd microwaved it for a minute before bringing it out. I wouldn't have even cared. I would have been perfectly happy to obliviously eat my bland, hot Udon. I wouldn't have cared if they had apologized, told me it was microwaved, and called it a day. NEVER bring ANYONE cold food. EVER.
Overall – 3 out of 5
I want to give one of these restaurants a good review some day. I really do. But every time I go in, looking to give a review, I'm disappointed by something. I was really looking forward to Sushi House. I've heard nothing but good things about it. But I couldn't get past the poor service and the bad Udon. Go to Sushi House for the sushi, but I really wouldn't bother with anything else.