Full disclosure: This is not the first time I've been to RJ's. I haven't been in a while, but this review is based on my most recent visit – and their recent changes.
Atmosphere – 4 out of 5
I love that RJ's isn't a chain restaurant, and that the decor is all Detroit-based. I'm a big fan of the Wings jerseys and Tigers bats and signed EVERYTHING. It's a lot like your traditional sports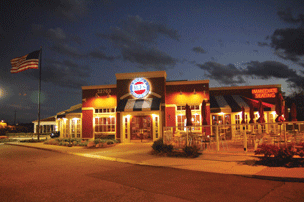 bar, wallpapered in sports memorabilia, flat screen TVs hung from the ceiling. It was finally a comfortable temperature, but the table was sticky – and we weren't the only ones who noticed. I heard the people at the next table mention that their table was sticky, and the waitress laughed it away, saying that "it's so you don't put your elbows on the table." Ew.
We did notice when we pulled up that the parking lot was extremely empty for a Friday night. The restaurant only had a handful of tables filled, where we usually would have been surrounded by people, the tables were, for the most part, empty.
Food – 2 out of 5
RJ's used to have the best burgers in the city. Seriously. The California Burger was amazing, but now they have a new menu, and those amazing burgers are all but gone. In place of the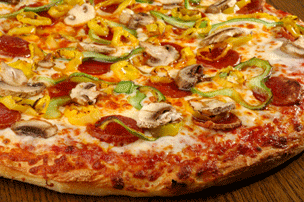 amazing burgers are now the RJ's Signature Burger ($8), the Piedmontese Steakburger ($10), the Chicken Burger ($8), the Black Bean Burger ($8), the Salmon Burger ($10), and the Build Your Own Gourmet Burger (starting at $8). They also raised the price on their Piedmontese upgrade to $4 from $2. In an attempt to recreate the California Burger, I added the cost of the guacamole, bacon, and cheese, and it ended up being an $11 burger. So we got the Build Your Own Pizza instead (starting at $10).
I wouldn't but the pizza on par with Little Caesars, but I would say it was closer to Papa John's for a way higher price. I really don't have much to say – it wasn't Uno's pizza, it was just meh. Totally not worth $13, and I'm really not a pizza snob. I enjoy Little Caesars and feel good about spending $5 for a decent pizza (not all Little Caesars are created equal. The 12 and Farmington Little Caesars in Farmington Hills is phenomenal) but I also enjoy high quality pizza when I want to spend a little more. This was not that pizza.
I've gotten their Fettuccine Alfredo in the past, and it's a HUGE plate, and quite good, but they've raised their prices since then, so I don't know if I'd spend $10 on a meatless dish.
Service – 3 out of 5
Our waiter told us towards the beginning of our meal that he was new, and was very patient as we hemmed and hawed over the menu after we saw the issue with the burgers. He was a nice guy, but I was a little upset when I ordered a beer and he automatically brought me a $2.80 bottle instead of a $3 draft without asking. And when I said something, didn't try to offer anything to correct it.
I also got a little annoyed when it was clear that we were done with our meal and he came back a second time to ask if we were doing ok, then we had to wait for our bill. It didn't help that I was still upset about my meal (which is why I decided to wait a few days before writing my review) and I still think it's annoying that he didn't bring the check on the second "are you doing ok?" Nitpicky.
Overall –  2 out of 5
The food was a true disappointment. RJ's is where we used to go for a burger, and now we have to find a different place as to not spend $9 on some meat and cheese (Because it's $.80 for cheese!) and it's not like we're going to go there for sub-par pizza, either. There's also way better places for pasta. It's really disappointing what they've done with the new menu, because it really does seem like they lost a lot of customers with it – not just us.