Way back on January 23, I wrote about my bucket list. That list included two items that I've since completed and I'm really really excited about.
This post contains affiliate links, which means that if you click on one of the product links, I may receive compensation.
3. Blog every (week)day for a month
9. Make mac and cheese from scratch
Well, it's been about two and a half months of blogging every day, now, so yay! And then Wednesday, The Chew had a macaroni and cheese episode. Michael Symon made an amazingrosemary, chicken, and goat cheese mac (which I'd love to try), and I got inspired. A few weeks ago, I tried to make mac and cheese and it ended up pretty grainy and disappointing, so I didn't even consider that "scratch mac and cheese". My mom's been trying to convince me that I should use my grandma's recipe – Velveeta, milk, and pasta – but I really didn't consider that scratch mac either.
I did a little recipe searching, and during a recent shopping trip grabbed some evaporated milk and two bags of cheddar – one sharp, and one mild. The only problem is, I lost the recipe that I'd originally found, and can't remember what I searched for to find it. So I googled "macaroni and cheese evaporated milk" and knew right away which recipe I was going to use – Alton Brown's stove top mac and cheese. Not only am I a huge Good Eats fan, but Alton Brown can do no wrong in my eyes. And this was no exception.
It is just as simple as deluxe box mac and cheese, and even easier than than the stuff with the powdered cheese. Basically, you cook the noodles, mix together the egg, milk, and spices, then melt in the cheese. One pan, one bowl. And it's super cheesy and just amazing. TRY THIS RECIPE!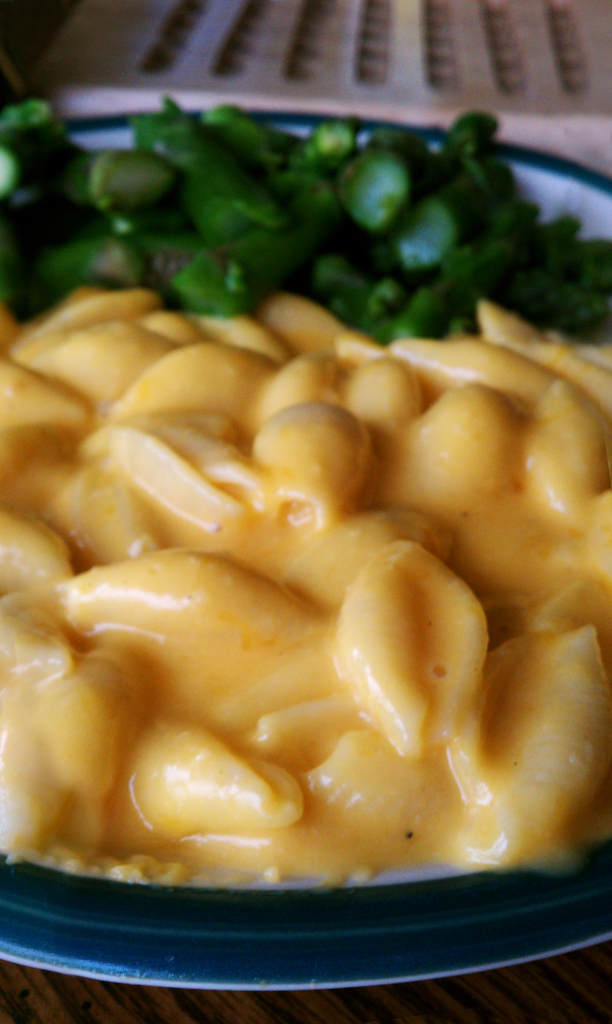 I doubled the recipe because I thought it wasn't going to be enough for us. Boy, was I wrong. It lasted us 3 days, eating it lunch and dinner, and if we hadn't pigged out the first day, we probably could have eaten it for 4 days. You really have to be careful with this one, because it will make you sick if you eat too much of it. It's VERY filling.
We didn't use hot sauce because we're not a hot sauce family, but I would make one other change to the recipe. Using all sharp cheddar is a very strong, sharp flavor (duh), so I would actually replace 2/3 of the cheese with mild, and use only about 4 oz of cheese (if you're making the single recipe).
As my lack of photos, I took a number of pictures, but they were all glitched and destroyed and unusable. The light at the end of this sad little tunnel, though, is that on Thursday, after my first day of work at my new job (!) I ran off to Costco and bought an amazing little Fujifilm Finepix S4500 at a great price, so the picture quality should improve after I get the posts that I already have pictures for posted. And I might share a few more "photos of pretty things" posts in the future.